Work With Me
Positive Intelligence (PQ) Coaching
Learn how to Weaken Your Inner Critic
and Strengthen Your Sage Power
When my inner critic hijacks my thoughts and actions, I have little access to my wiser, authentic self (aka my Sage). I can try to ignore the chatter, but it still takes up space in my head, keeping me from being present, feeling confident, and making clear-headed decisions. The more I try to push that voice away, the more I end up noticing it. It's exhausting, frustrating, and takes up way too much time. Sound familiar?
It's time to weaken your inner critic or "Saboteurs" for good!
Let me introduce you to an evidence-based mental fitness training program, called the PQ Program, that helped me and will help you identify, intercept and weaken self-sabotaging negative thoughts and learn how to respond to life's challenges with greater ease and flow.
The PQ Program is based on the extensive work (along with research from neuroscience, positive psychology, cognitive psychology, and performance science) of Shirzad Chamine, executive coach and best-selling author of the book "Positive Intelligence." This mental fitness program is a game-changer in helping people have a happier life with better relationships and more success at work and in their personal lives.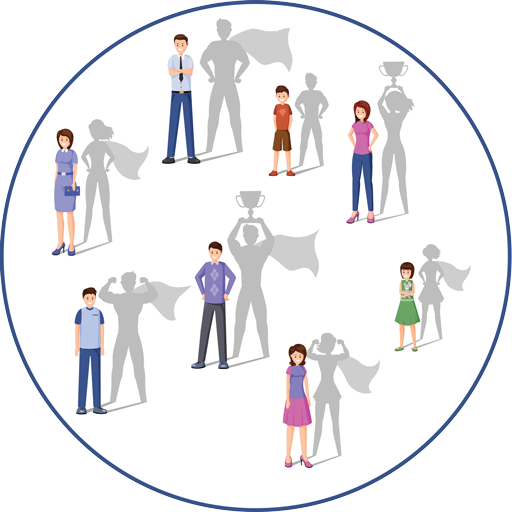 PQ Program Details
Take the free Saboteur Assessment
The 7-week APP supported PQ Program components include:
One weekly 60-minute video with powerful instruction
One weekly, 40-minute small group POD (3-5 people) zoom session facilitated by me, your PQ Coach
Daily short exercises (15 min/day) on a phone app to build your mental fitness muscles
The ability to interact with the group members through the phone app on your POD's private channel
Access to Shirzad Chamine's best-selling book "Positive Intelligence"
One 1:1 PQ coaching session with me on your top Saboteurs
Ready to create habits to improve performance, relationships, and well-being?
Click here to sign up for one of my upcoming PQ Program Workshops